Urgh mornings!
Oh dear It has been one of those morning's I hate! The ones where you know your going to be late and there is absolutely nothing you can do about it! At 8:42 this morning I had 2 children naked from the waist down, a missing shoe and a lot of hair to brush, as it was we literally made it as the door was shutting albeit short a coat, reading book and Amelia wearing a cardigan two sizes to small, nope I obviously didn't look at my child as she shot past me into the car this morning and will never win awards for my organisation skills!
Kids clothes week challenge.
This week I am planning on taking part in
kids clothes week challenge
, my sewing machine has been sadly neglected and Isaac could do with some summery clothes and some shorties to wear over his cloth nappies, and I would maybe like to make dresses or skirts for the girls. I'm planning on mostly upcycling as I have quite a few bits of old clothes/curtains/fabric and felted wool jumpers around, and will be trying to post daily about what I've been up to.
Knitting progress.
As my knitting grows slowly row by row, I find it hard to see how much I have achieved, so have decided to post a photo every so often so I can see how its going. I have to admit there are one or two mistakes but there is no way I am going to start over with this again!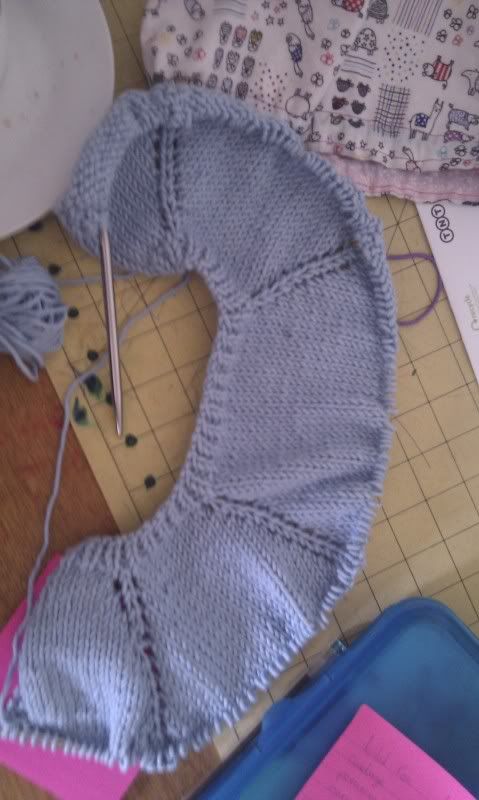 I am also trying to see how much extra knitting I can squeeze in, a row while supervising the kids in the bath or sitting with them chatting at bedtime. I have a bad habit of wasting odd minutes here and there as I don't feel there is enough time to get much done and I think I need to stop thinking and start doing!