This is something I was thinking about a few months back but never got round to buying the yarn,then something reminded me and I ordered 5 skeins of organic merino aran from
Yarnundyed
.
It arrived super fast, so I dragged my poor kids round the supermarket looking for gel food colourings.
I found a pack of red, blue and yellow in Tesco and just dived straight in, the first try wasn't exactly as I was expecting. I soaked a skein in vinegar/water mix for a few hours then mixed some of the blue gel and red gel with a bit of water, trying to go for pink and blue. I then squeezed out the skein and attempted to paint it with a brush. With an impatient baby and a couple of small people eager to help it was taking too long, so I tried to suck up the food colouring mix with the empty tubes the gel had come from and squirted it on the yarn itself, then I wrapped it in cling film and put it into a microwave container and put it in the microwave for 3 minutes and then let it rest 3 minutes. I did this 3 times in total then rinsed it off.
It wasn't quite what I had expected, the red/pink was a lot paler than I had hoped and the blue was rather dominant.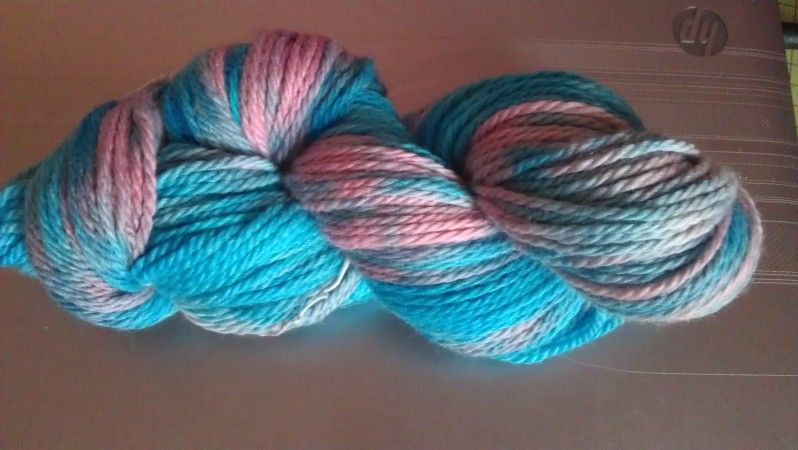 I have since dyed another 2 skeins but as I don't seem to have the photo's I am certain I took I will share them later.